Website design | SEO Strategy
Jeremy Sramek owner of Ink Junkies Tattoo commissioned Immense Designs to overhaul the website for Ink Junkies Tattoo and to add a method for customers to arrange consultations for tattoos and piercings online. In order to accomplish this goal, the website needed a revamp for improved user experience as well as a solid SEO strategy. The aim was accomplished with flying colors, as seen by the much higher number of consultations, as well as Jeremy, owner of Ink Junkies Tattoo, expressing his enthusiasm for the website. Thankfully, Immense Designs was there to help Jeremy along the way.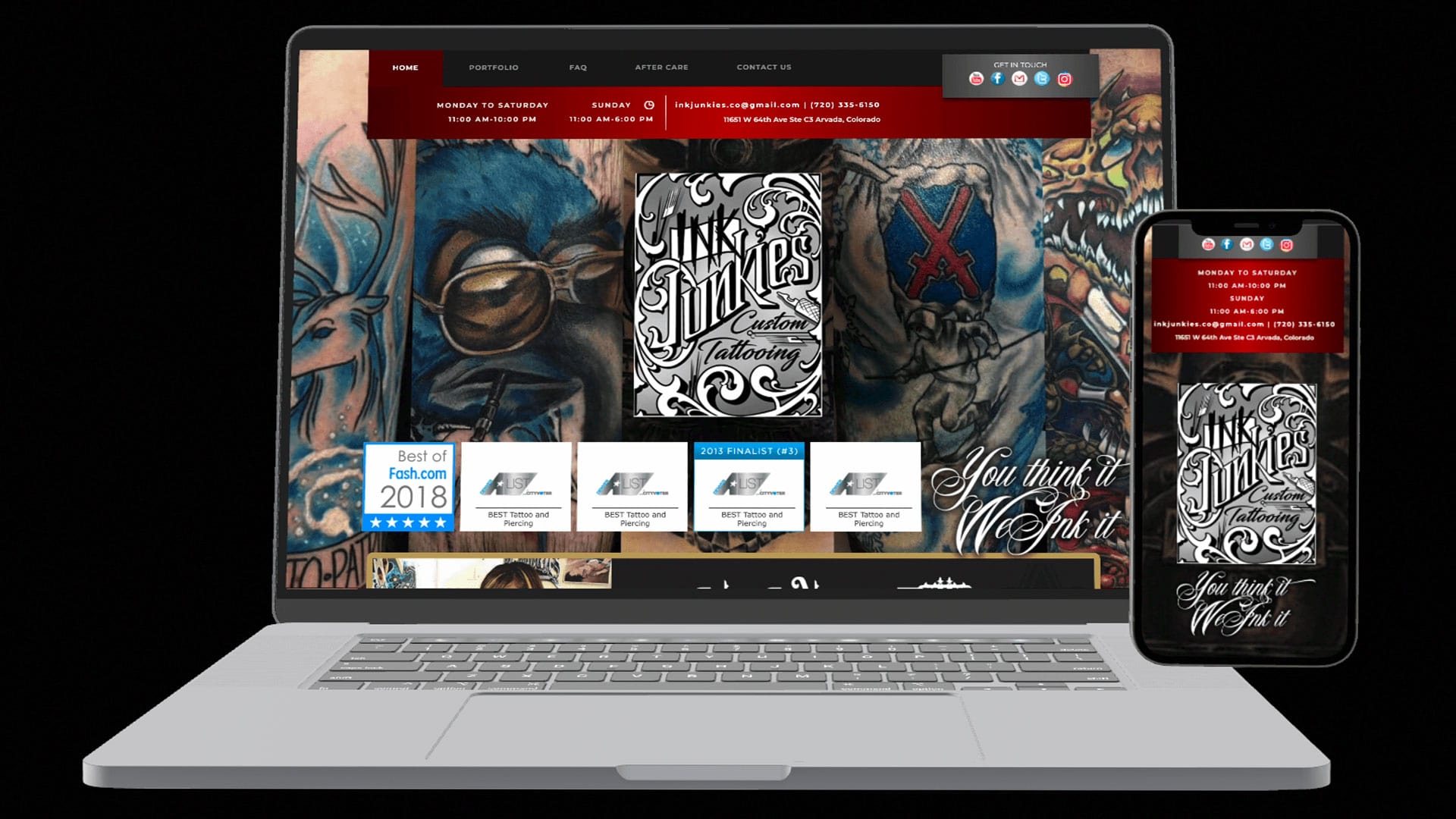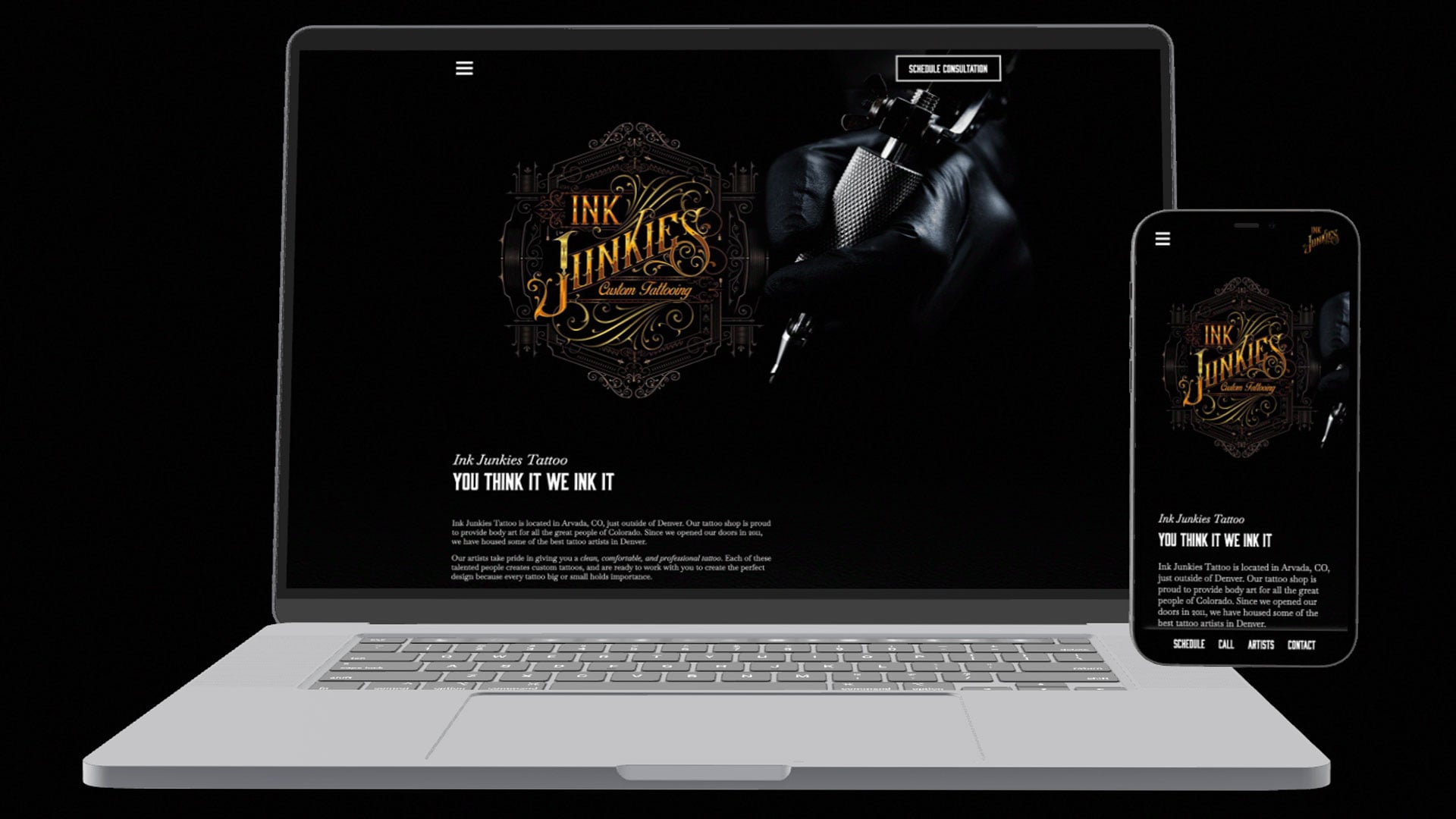 CRAFTING A WEBSITE FOR INK JUNKIES TATTOO
Jeremy's goal for the website was to have an online presence for Ink Junkies Tattoo that did more than just showcase his and his team's portfolio; he wanted to make it simple for potential clients to schedule appointments for tattoos and piercings through the site. Yet he had no idea how to get started or what steps to take first.
The redesign was executed and began with the goal to enhance the site's aesthetic design. The website now gives off a minimal/modern aesthetic while maintaining a dark and dangerous vibe.
A good tattoo always pops and so does this website with a touch of purple and gold where it matters.
User Experience & Functionality
The user-experience was improved by implementing a appointment booking system and optimizing the website for mobile devices. This allows customers to book appointments with any tattoo artist or piercer through the booking form. Not only did this solution improve usability for the customer but for the business as well as the consultations can be routed to each artist.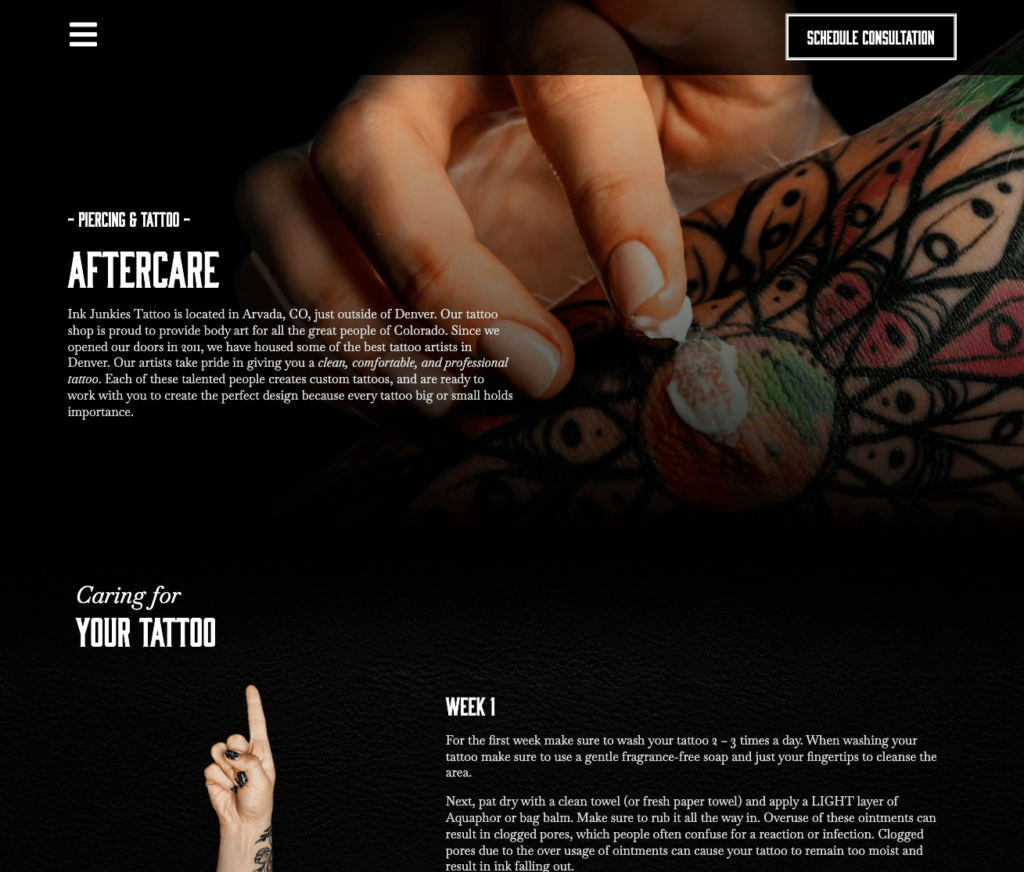 Search Engine Optimization (SEO) Strategy
Now that the UX was as desired next was SEO, the goal was to increase the visibility of Jeremy's website and make it easier for his intended audience to find it. As part of this process, the website's content, meta tags, and descriptions were all optimized to improve the site's readability for search engines and to help it climb the local google listings in Arvada, CO. Part of this strategy were the FAQ  page as well as the Aftercare page after research on what the target audience was searching for.
Immense Designs worked with Jeremy to accomplish all the objectives outlined. Ink Junkies Tattoo saw a surge in consultation numbers after launching their website. It now features artwork from each artist, providing proof of their quality work and wide range of styles, and an online booking system, making the process easier. With the SEO strategy complete the website now ranks #1 when you search location-specific queries on google. We are overjoyed to learn that Jeremy liked the completed website and was pleased with the results.
"Tannis built a website for me a couple of years ago and I couldn't be happier with it. When I need changes made he is always ready and available to get that done right away. I recommend Tannis at Immense Design for all your website needs."